Patchwork love
When I make the collars and cut the fabrics, I always ensure to waste as little as possible. I keep the off cuts which can be used for other products and I have been keeping the smaller pieces in a fabric bag with the thought that one day I could find a purpose for them.    [[MORE]] The weekend is often a very inspirational time for me. The studio is calm and I can focus a little on other...
3 tags
3 tags
5 tags
Crochet love
I was introduced to crochet by a friend of mine many years ago and from the moment I picked up a crochet hook I fell in love with the process… [[MORE]] For a while now I really wanted to start diversifying on my product range and I had been working on a few new products using crochet.  Combining my love for rustic wool, I came up with 'LA CHATAIGNE', the chestnut cushion.  I...
8 tags
The collar sewing kit
When Lucille contacted me a few months ago I was enchanted to discover her beautiful illustrations.  She had seen some of the CLAUDINE & COMPAGNIE collars on Pinterest and thought it would be great to collaborate together somehow.  I loved the idea - When you work on your own it can be so refreshing to bounce ideas with someone else. [[MORE]] I had thought of doing a collar sewing kit for...
5 tags
Marimekko spirit
It's Design September in Brussels at the moment and one of the thing I enjoy most about this event are the lectures. I was delighted to find out that this year they invited Minna Kemell-Kutvonen, creative director of Marimekko and Maija Louekari, textile designer who freelances for them. So, yesterday I got out of the studio early and went to the conference. I was so excited. I was going...
3 tags
We are 1!
I was looking at my Facebook timeline and realized that today was the day that one year ago I had put my website online and the whole CLAUDINE & COMPAGNIE little adventure started…gosh! I was soooo nervous. I remember on how it all begun…I had bought a couple of table cloths on a flea market and with one sewing machine that my boyfriend had lent me I started putting into forms all...
4 tags
4 tags
2 tags
This week wrap up
This week I have been working on new products for September. Although it has been strange having to think of cold and winter times when days are hot, I actually truly enjoyed picking up my crochet hooks and prototype some lovely new things. It did make me think though about fashion designers who always work so much in advance (as far as two years!) and also how much of a pressure it must be for...
2 tags
Sea break
This week I spent a few days in a north region of France called Pas de Calais. I knew very little about that area and I was charmed. The coast is beautiful and seeing the second world war bunkers still standing was quite moving - They were almost like sculptures.  The other thing was the beautiful poppies in the fields - the contrast of the blues, the greens and the reds was just stunning! I...
1 tag
This week wrap up
This week has been a bit of a rush trying to get everything finished before I take a little trip to France : ) It was very exciting to get my first interviews - quite proud ; ) If you haven't seen them here there are (again!): Interview My-Brussels, Interview Les Demoiselles De Paris.  We also had our first free collar giveaway in collaboration with LES DEMOISELLES DE PARIS so if...
1 tag
In my toolbox - Item #3
This is my essential CHESTNUT PIN CUSHION! I love chestnuts! In fact at one point I wanted it to be my logo (I might still do that actually…)  I think they are so beautiful and they remind me of my grandparents house where we used to pick them. Another thing is that they taste wonderful!  I made it out of old jumpers and I think it is so cute. Maybe I should make it a CLAUDINE &...
2 tags
Interview
I did a little interview for Belgian Blog 'My-Brussels'. So if you are curious to know more about my inspirations and aspirations have a little read. I know it is in French…but still, I am happy to share it with you : ) INTERVIEW FOR MY-BRUSSELS
2 tags
1 tag
CLAUDINE & ...
I love it when I receive photos of customers wearing our collars! This morning I opened my computer to the blog of Stefanie Ingram from Australia who posted a few pictures of herself wearing our DIANE and GABRIELLE neck ties. Doesn't she look lovely?! And here are a few more of our lovely ladies so far… [[MORE]] - Perrine in her office wearing the CLAUDINE collar in Liberty /...
1 tag
In my toolbox - Item #2
The Wooden Stamp This was one of my first investment for CLAUDINE & COMPAGNIE and is totally essential! I can stamp tags, labels, papers, wrapping…you name it I stamp it ; )
1 tag
Today is a big day!
A lot of new things are happening at CLAUDINE & COMPAGNIE today. We have new collars for the ladies in beautiful Madras, Piqués and Gaufrés cottons. The children collection is now available and to wrap it all nicely we have updated our website. The night was long (thank you Sylvain for your beautiful patience and your help!) but I am happy : )
1 tag
1 tag
In my toolbox
Today I have been taking pictures of various objects in the studio that I love and cherish for their functionality, what they remind me of, for the way they were made…objects that I could not work without. Here is the first one: THE IRON I have a couple of those and I use them to hold down the fabric when I am cutting. It works brilliantly and it is such a lovely way to find a new use...
5 tags
What caught my eye in Milan this year...
I go to the Milan furniture fair every year - it is always a real good trip where I can catch up with old friends, get to see wonderful things and eat amazing food : ) This year a few things caught my eye - I enjoyed the Vitra stand (as always) and appreciated the good quality furniture and values of companies such as Stattmann Neue Mobel. I also had a quick peek at the Ikea exhibition where...
1 tag
1 tag
Tea time Panetone
[[MORE]] Today we had Panetone at the studio - the packaging was so gorgeous I had to take a few snaps.
2 tags
Selvedge Spring Fair in London
I have just come back from London where I had a fantastic time enjoying the good weather and where I was participating at the Selvedge Spring Fair. It was great! Thank you to all the ladies who fell for our collars and for the Selvedge magazine team for organizing such a lovely event… …And the lavender cupcakes from the Selvedge café were yummy! [[MORE]]
2 tags
Bread baking...
I was introduced to the idea of making my own bread by my friend Marina Bautier - who not only designs beautiful things but makes the most amazing bread! - and I finally managed to give it a go last night.  Actually, my very first try was last weekend and it was a total fail (the paste never rised…) but after watching various videos and reading blogs I gave it another try. I need to work...
5 tags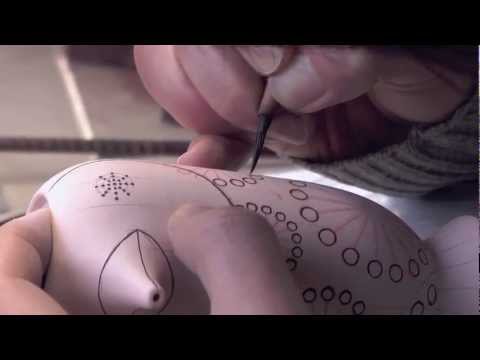 * Monday's coup de coeur: Amy Merrick *
It's been a while that I wanted to share Amy Merrick's beautiful work and the rain here in Belgium today makes it the perfect opportunity to cheer us up for the start of the week. Amy is a florist & stylist from Brooklyn and her photography is absolutely stunning. You can also follow her blog, called An Apple A Day, and if I have one word of advise I would truly recommend to...